In the manufacturing space, guaranteeing a consistent and quality product is a must. Not only is registering and controlling your laboratory analysis an industry requirement, it's also an opportunity to build customer trust and minimize the risk of costly defects.
To ensure the quality of the products they manufacture, businesses must regularly carry out different validation processes for density, color, humidity and many other characteristics. They also must guarantee that quality by generating Certificates of Quality.
To meet this business requirement, DINTEC developed the Quality Assurance ByDintec add-on for SAP Business ByDesign. Designed by our Enterprise Resource Planning (ERP) experts, this add-on generates and seamlessly integrates Certificates of Quality into your manufacturing and order-to-cash processes, enabling you to gain greater control over your operations.
Quality Assurance Before and After DINTEC
Even businesses with a cloud ERP solution often run into problems attempting to meet these quality requirements. Some of these challenges include:
Identifying which orders still do not have their Certificate of Quality

Retaining a record of each order with its Certificate of Quality

Issuing different types of Certificates of Quality as necessary
For example, a food production company undergoes a quality validation process every time the product is delivered to the end customer. The company must ensure that the product shipped has the characteristics that the buyer requested by including a Certificate of Quality issued by their ERP solution.
Thanks to Quality Assurance ByDintec, such manufacturing companies can control the quality standards required for their products through a process control technique. The add-on offers businesses greater control and visibility by monitoring product samples and acting as a system of record for the production line.
Quality Assurance ByDintec is fully customizable, enabling users to define the characteristics and values to be measured for each individual product, while also defining the parameters according to industry specifications. It can also generate either printed or electronic Certificates of Quality, according to the end customer's requirement.
The Benefits of the Add-On
By increasing visibility and minimizing the losses related to substandard processes, DINTEC's Quality Assurance Add-On makes SAP Business ByDesign an even more valuable tool for manufacturers.
On a day-to-day level, the enhanced control that the add-on enables helps manufacturers mitigate the risks of product defects, minimizing the possibility of incurring costly setbacks. These quality control processes are especially helpful when manufacturing low-cost goods, as any returns or defects to such products can effectively ruin your profitability.
In addition to generating Certificates of Quality, Quality Assurance ByDintec allows continuous monitoring for better control of orders, including the ability to validate whether and when certificates were generated. Its quality analysis log repository functions as a Warehouse Monitor, enabling you to track orders that require an inspection or may need further attention.
This functionality also makes it possible to generate and integrate those quality control certificates within the SAP Business ByDesign Order-to-Cash process.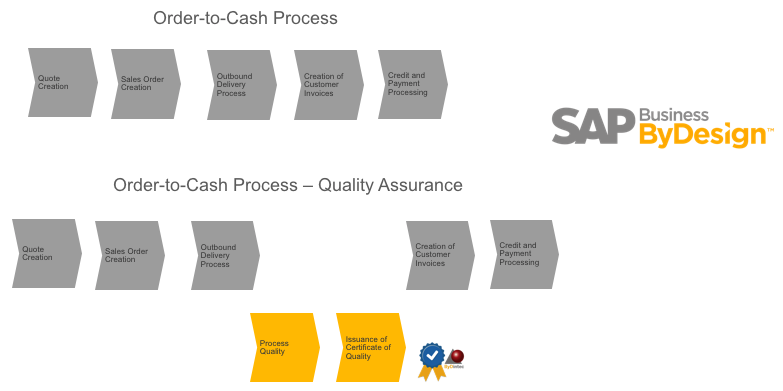 In today's rapidly transforming digital environment, businesses must change how they think about quality and consistency to remain competitive. Combined with Quality Assurance ByDintec, SAP Business ByDesign makes it easier than ever for manufacturers to meet their clients' expectations – as well as their own.
Want to learn more about the Order-to-Cash process? Let's connect by scheduling a call!